Tattoos are symbols of things that carry special meaning, so it's not surprising that many athletes at
London 2012
have the iconic
Olympic rings
inked on their bodies. These Olympians have worked tirelessly over the last four years and the majority of their lives to be among the best in their sport, so this tattoo serves as a
badge of honor
for this elite group of athletes, regardless of whether they ever medal.
Although the Olympic rings tattoo is generally popular among Olympians of all nationalities, the
U.S. swim team
takes it to another level. Aside from its obvious symbolism, it's a mark of prestige among American swimmers who fiercely compete for spots on the national Olympic team. Just how competitive is it?
According to the New York Times
, only two qualify in most events and the 49 members of the 2012 team represent close to the top
one-tenth of a percent
of the country's registered swimmers.
American swimmers are certainly not the only ones showing off their rings. Take a peek at who TSR spotted with Olympic ink at London 2012:
USA Swimmer Matt Grevers
British Diver Nicholas Robinson Baker
USA Archer Khatuna Lorig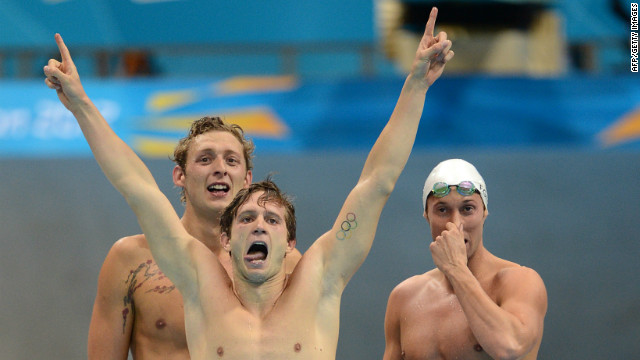 French Swimmer Clement Lefert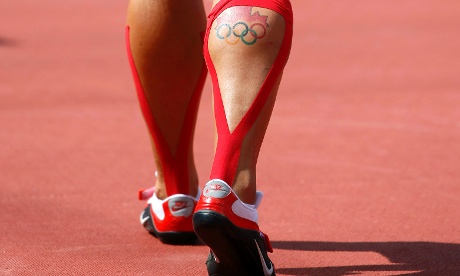 Canadian Hammer Thrower James Steacy
USA Swimmer Ryan Lochte
USA Gymnast Jonathan Horton
British Handball Player Kelsi Fairbrother
Canadian Swimmer Ryan Cochrane
Venezuelan Gymnast Jessica Lopez
USA Swimmer Michael Phelps
Want your own Olympic rings tattoo minus the discomfort and commitment? Try this temporary version and show off your ink!
The rings are definitely a popular choice, but athletes express themselves through a variety of unique tats. Share your favorite with TSR on
Facebook
or
Twitter
!
XO,
The Style Ref