Hollywood is filled with beautiful people who put their careers first, but only one star would pick college basketball over the pilot premiere of her new television show. Actress and humanitarian
Ashley Judd
, whose new series
Missing
premieres this Thursday on ABC, takes team spirit to an inspiring level as an incredibly devout
Kentucky Wildcats
fan.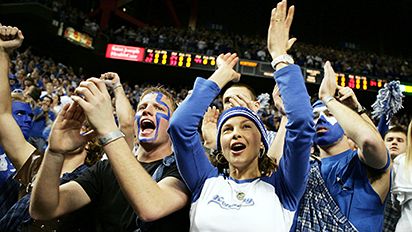 She's a frequent fixture at UK basketball games, but she doesn't just stand there and look pretty. She's a widely respected expert on Kentucky basketball with the knowledge to back it up. Judd's one smart cookie - she graduated from the
University of Kentucky
in 1990 and earned a Master's in Public Administration from
Harvard University
in 2010. It's no wonder she's one of Kentucky's most famous and beloved alums.
Judd is much more than a role model for female sports fans; she epitomizes why we need more of them. Her passion, loyalty and enthusiasm are refreshing in a world where women are becoming an
increasingly large and influential fan demographic. Her intensity for college basketball is not only impressive, it's intimidating and challenges the traditional notion that women don't care or know anything about sports. Judd also has great fan style, turning Kentucky blue into her own personal fashion statement both on and off the basketball court.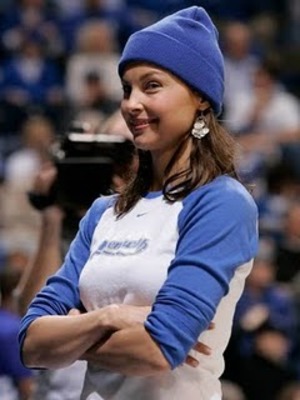 It's hard to relate to most celebrities, but when Judd talks about Kentucky basketball, it's easy to see how she won the hearts of
Big Blue Nation
and a place in TSR's Hall of Fame:
"One thing I love about going to UK games is that I don't feel like a movie star,
I'm just another passionate fan," said Judd.
Correction: she's clearly not
just another
passionate fan, she's the definition of one.
XO,
The Style Ref
P.S. Judd isn't the only celebrity Kentucky fan.
Click here to find out which hip hop star helps her cheer on the Wildcats!