On January 22, 2012, the world lost more than a college football coach - it lost an icon. Regardless of the unfortunate events that unfolded last year in what would be the final months of his life,
Joe Paterno
will live forever in the hearts and minds of Penn State fans and college football devotees forever.
Joe Paterno spent 61 years at
Penn State University
and 46 seasons as head football coach, transcending the roles and becoming a seemingly permanent fixture of
State College, PA
. Over his life's work, he built an indelible image that will remain imprinted in the collective memory of American sports fans for generations.
Aside from being a dedicated educator, coach and mentor, "JoePa" was a true original in every sense. We will remember him for so many things, but in true TSR fashion, let's take a moment to remember the unforgettable image of a man we'll all miss seeing on the sidelines:
Paterno was a member of Brown's Class of 1950 and was
selected as one of the NCAA's 100 Most Influential Student-Athletes
After finishing his playing days at Brown University,
Paterno was hired as an assistant at Penn State in 1950
The 49-year love affair between Joe and Sue Paterno
began when they married in 1962
Shortly after the 1965 season ended, Paterno was named head coach
of the Nittany Lions, where he remained for the next 46 years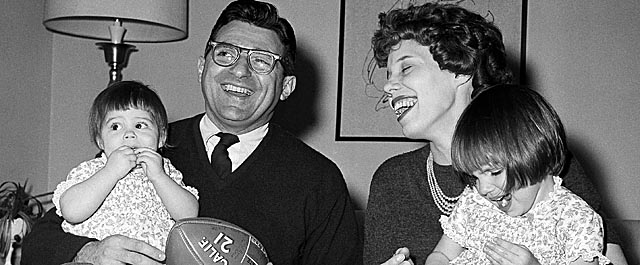 Paterno in February 1966 with his wife, Sue, and two daughters
Both Paterno and Bryant died less than 60 days after leaving college football.
The man known as "JoePa" is the winningest coach in major college football:
409 games won, 37 bowl game appearances and two national championships.
More than 250 of the players he coached went on to the NFL.
Paterno was a permanent fixture for Penn State students, alumni and fans
More than a football coach -
an educator, a mentor and the last of his kind
No matter what happened before or is yet to unfold at Penn State, one thing is certain - Joe Paterno is part of that university's history and everyone who participates in NCAA college football. His lifetime of dedication to the school and sport he loved harkens back to an era where loyalty mattered. In his spirit, we are loyal to JoePa's memory and celebrate the man in blue with the signature specs and trademark khakis who was undeniably Penn State.
So long, Joe. We'll be seeing you.