Let's talk about the number 45. It's not a player, an age or a price. It's a statistic, but one that doesn't get quoted by sports analysts. In a league dominated by men both on the field and in the stands, it may come as a surprise that
45 percent of professional football fans are women
. In addition to owning almost half of the
NFL
's fan base, today's modern woman also loves to shop, maintain her appearance and express her individuality, not to mention females have
greater and greater influence
over purchasing decisions. Connect the dots and you'll uncover one very attractive consumer market that the NFL, and the larger sports industry, has yet to truly capture.
To attract fans of both fashion and professional football, the NFL launched a
landmark advertising campaign
to promote its revamped
women's apparel line
for the 2012 season. Anchored by the tagline, "It's My Team," the campaign features 20 notable women wearing NFL and designer apparel. The diverse group of participants includes former Secretary of State
Condoleezza Rice
, socialite and jewelry designer
Melania Trump
, Olympic tennis champion
Serena Williams
,
D.J. Kiss,
and Dancing with the Stars'
Kym Johnson
and
Peta Murgatroyd
.
The NFL's "It's My Team" Campaign
There's a lot to love about this campaign: it's about real women who are real fans getting to express their competitive spirit through their personal style. This isn't about glitz and glam - it's about giving women a choice and a voice when it comes to cheering on their favorite team. Thanks to the NFL, what women want is finally getting noticed.
Take a look at some pictures from the NFL's "It's My Team" campaign and photo shoot:
Former Miss USA Susie Castillo & U.S. Olympic Swimmer Summer Sanders
DJ Kiss
Executive Vice President of the Dallas Cowboys Charlotte Anderson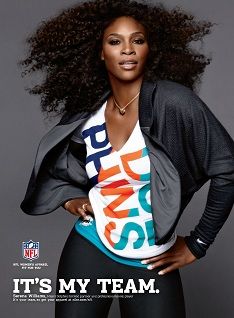 Olympic Tennis Champion Serena Williams
Former U.S. Secretary of State Condoleezza Rice
Dancing with the Stars' Kym Johnson
& Peta Murgatroyd
Gracie Hunt (middle), daughter of Kansas City Chiefs
owner Clark Hunt, with Brittanie Snyder (left) and
Tiffanie Snyder (right), daughters of Washington
Redskins owner Daniel Snyder
What do you think of the NFL's "It's My Team" campaign?
XO,
The Style Ref