TSR's Hall of Fame honors those who have made a significant contribution to the converged worlds of fashion and sports, making our passion for our favorite teams just a little more fun and stylish. The second inductee is actress, journalist and television host
Maria Menounos
.
TSR's Hall of Fame: Maria Menounos
You know her from hosting gigs on
Access Hollywood, Extra, MTV, Disney's Christmas Day Parade
and a dizzying array of other entertainment shows, but Maria is much more than a pretty face with a mic. She's an avid sports fan who's more like the girl next door than the girl on TV. Maria's cool fan style shows she's just like the rest of us. Plus, she sets a great example for female sports fans - always dress for the game with comfort and style.
Maria's fan allegiance is easy to figure out from these pictures, so let's take a look at the many sides of Menounos: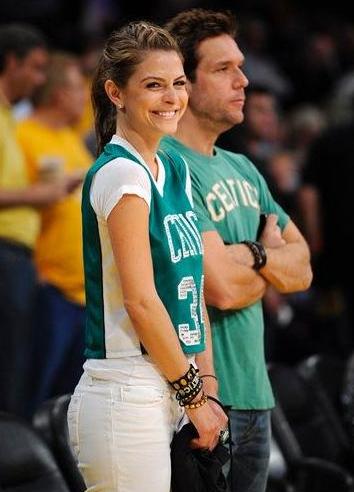 With fellow fan Dane Cook at a Boston Celtics game
Doing the correspondent thing at a Patriots game
Posing at the Madden NFL 11 'Pigskin Pro-Am'
Not only is she a sports fan, but she plays, too! Is there anything this girl can't do?


Playing in the Taco Bell All-Star Legends and
Celebrity Softball Game in July 2010
In a friendly game with Boston Celtics Paul Pierce in 2011
Maria is a clear choice for TSR's Hall of Fame because she represents everything that men love about women who love sports: she's real, she's intense and she looks great in uniform. Thank you, Maria, for being a role model for female sports fans everywhere and doing it in style.
Do you think Maria's the right pick for TSR's Hall of Fame?
XO,
The Style Ref
P.S. - Hey Maria, should we count the
Celtics
out this season? Didn't think so.