Most people dread the idea of wearing glasses, worried that they'll look geeky or nerdy, but some people make them look undeniably cool. One of those people is Tampa Bay Rays Manager
Joe Maddon
. His trademark black, thick-rimmed glasses make him one of the most recognizable figures in major league baseball today.
Tampa Bay Rays Manager Joe Maddon
Aside from his signature specs, Maddon has proved to be somewhat of a pioneer when it comes to the MLB's dress code. The league dictates a professional look for players and team staff, which explains why you often see 50-year-old men dressed in full baseball uniforms even though they rarely pick up a bat. Being a bit of a rebel, Maddon had been sporting his favorite hoodie in the dugout, which came to the attention of the league's uniform police. In a stunning move in April 2010,
the MLB banned hoodies
and required all managers and coaches to wear only the official team jacket or approved Majestic pullover over their jersey. Maddon wasn't happy about it: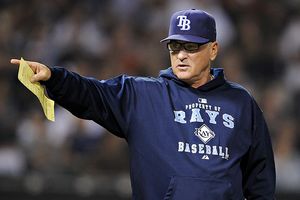 Maddon's Way: The story of a man and his hoodie.
"That's part of our culture here," Maddon said. "It's almost like a security blanket for me. Managing without a hoodie on a cool night could be very disconcerting.
Furthermore, I think it's wrong."
One day after this controversial announcement,
the league reversed the ban
and Maddon was reunited with his prized hoodie.
Most fans might find it surprising that fashion matters this much in baseball, but the debate over appropriate dugout attire actually resurfaces every several years, particulary over the issue of comfort. While players and managers understandably prefer to be comfortable in the dugout, the league mandates a more formal, professional look. Really, since when do people wear cleats and a hat to work? Has baseball forgotten it's a sport? That's played outside? In the dirt?
Branded hoodies, hats, sweatshirts and the like should all be allowed in the dugout. If a player is out on the field or up at bat, then it's time to let the uniform shine, but players and managers should be allowed to don outerwear that's both comfortable and stylish when they're not rounding the bases.
Maddon is clearly setting the bar for style in the MLB, so much so that he unintentionally ended up in the center of a debate about hoodies...and won. Lesson learned: Never underestimate the power and influence of a man in black, thick-rimmed glasses.
Don't mess with Maddon.
What do you think of Joe Maddon's style and the hoodie hoopla?
XO,
The Style Ref