The Coach's Corner will be a regular feature on TSR because a coach's style is one of the biggest fashion statements in sports! Throughout the history of sports, many iconic coaches defined their image and even their legacy through what they wore on the sidelines. Their famous style choices are burned in our collective memory forever, influencing how we view them as leaders both on and off the field. Some do it right and some make mistakes. In the end, it's all pretty fun to watch!
In the first edition of Coach's Corner, TSR spotlights
Al Golden
, head football coach at the
University of Miami
. Al is relatively new to South Florida, which is a tough fashion scene for anyone to tackle. Plus, you have Miami's storied swagger to live up to. That's no easy feat for a white guy from Jersey. However, Al seems to have taken to the idea of creating an iconic look, one that undeniably says:
Miami's Still Got It
. The only problem is this doesn't really say that: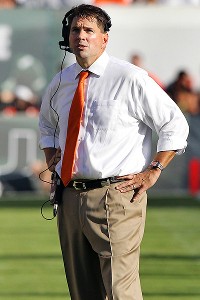 Al Golden, head football coach for Miami (2011 - present)
Remember, Swagger + Style = Miami, not orange tie + baggy, ill-fitted, white oxford shirt + pleated khakis. This doesn't make me think Miami; more like suburban prep school. I would love to see Al looking confident wearing cleaner, bolder ensembles to bring a bit of the famous Miami magic back. You have to admit,
Jimmy Johnson
, Miami's head football coach from 1984 to 1988 during the football program's "Decade of Dominance," had this equation down pat.

Jimmy Johnson, head football coach for Miami (1984-1988)

The man was a true original with swagger for days. He even made it to the cover of
GQ
!
Fear not, Al! All is not lost yet. You have only just begun to build your legacy at Miami and you can still get your own GQ cover. My advice: Take this season to gather your orange ties, white oxford shirts and pleated khakis, and donate them to those in need of proper work attire. It's time for some fresh duds to lead Miami into a new era.
What do you think about Al's sideline style?
XO,
The Style Ref