When you think of
Jay-Z
, three things come to mind: Rapper, Mogul and
New York Yankees
Fan. For years, the Yankees hat has been a fixture of the
Brooklyn
-born star's wardrobe, popularizing it as a recognizable symbol of hip hop culture.
Jay-Z famously rapped on his hit, "
Empire State of Mind
:"
"I made the Yankee hat more famous than a Yankee can."
No one can argue with that. He's a loyal New Yorker and his fitted Yankees hat is his medal of honor, a badge he wears to show the world how proud he is to be from the greatest city in the world.
Jay-Z has rocked his signature Yankees hat everywhere from interviews and special events to performances and of course, Yankees games. In fact, it's hard to find a picture of him not wearing one. Let's take a look at the many hats of Jay-Z: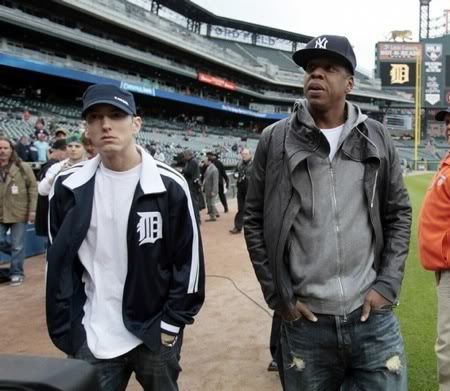 One thing is clear from these photos: the man knows what he likes. Although he might switch it up for a special occasion, Jay-Z prefers the traditional look, which is why the Yankees hat has become his trademark, not to mention a marker of pop culture that will never go out of style.
He's one of the most passionate celebrity sports followers, but most fans can't transform their team passion into a lucrative business deal. In April 2012, Jay-Z
announced a partnership
with his clothing line,
Rocawear
, to be the team's official sponsor for the 2012 season. For the fan inside the man, also known as
Shawn Corey Carter
from Brooklyn, NY, this must be a dream come true.
How many Yankees hats do you think Jay-Z owns?
XO,
The Style Ref